Trident Academy teacher gets greatest joy from students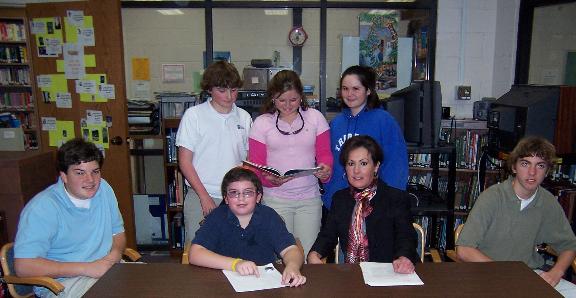 By Bridgitte Surette

Special to the Moultrie News - February 17, 2005

Ask Therese Kristiansen if there's any other profession she would choose other than a teacher, and her reponse is a resounding no.
Kristiansen is a middle school teacher at Trident Academy in Mount Pleasant. Trident Academy is a comprehensive school for children with specific learning disabilities such as dyslexia, ADD (Attention Deficit Disorder) and ADHD (Attention Deficit Hyperactivity Disorder). The student body consists of kindergarten through 12th grade with a student/teacher ratio of about 4 to 1. The student population is 155 students and, according to Trident Academy's brochure, offers "the right school for bright students who learn differently."
According to Trident Academy's literature, the school was started in 1972 by a group of Charleston physicians, educators, business people and parents for intelligent children with learning disabilities. William Detyens, a Mount Pleasant businessman, donated the land. The school expanded in 2001 and has plans for further expansion.
Kristiansen, originally from Manhattan, settled in Mount Pleasant about 23 years ago and has been teaching for 20 years. Teaching at Trident Academy for 17 of those years has been rewarding for her, but her reasons for doing so were very personal.
"My brother had a learning disability. He was in the first grade, and I was in the fifth grade. Every day his teacher would tell me the things my brother was doing wrong. Teachers thought he had a behavioral problem or that he wasn't very bright," Kristiansen said.
Luckily, her brother was properly diagnosed with dyslexia and was helped with a special phonics program. He was tested and had a higher than average I.Q., but at that time, information about dyslexia wasn't in the main stream media as it is today.
"I remember seeing a 60 Minutes episode in the late 70s about dyslexia," Kristiansen recalls, "but that's my first memory of hearing about the condition."
According to the International Dyslexia Association, those with dyslexia have differences in the structure and function of the brain.
ADHD can also affect learning, especially in a traditional school setting. According to the Web site, childdevelopmentinfo.com, ADD and ADHD affects 3-10 percent of the population and is thought to be caused by "a neurological dysfunction within the brain." According to this study, areas of the brain associated with attention, concentration, planning and organizing are lower than those in persons who were not diagnosed with ADD/ADHD.
Children with dyslexia and ADD/ADHD have average or above average intelligence, but because of differences in functions of the brain, have difficulty reading, organizing thoughts, writing and memorizing math facts. In order for someone with dyslexia to learn, a different approach is required.
"We teach specific exercises based on the Orton-Gillingham method which is different than traditional learning," Kristiansen said.
The Web site, ortonacademy-org, confirms that this method of teaching was developed by Samuel Orton, a neuropsychiatrist and pathologist and Anna Gillingham, an educator and psychologist. Through Orton and Gillingham's studies regarding processing problems, the Academy of Orton-Gillingham Practitioners and Educators was incorporated in 1995 in New York. The teachers at Trident are certified through the method and also have to be continually trained.
"Nothing is strictly lecture. Everything is visual as well. We do a lot of hands-on activity known as multi-sensory. Our students don't just hear, but learn by doing," Kristiansen explained. The Orton-Gillingham and multi-sensory learning system involves teaching the student through "visual/auditory/kinestthetic/and tactile simultaneously," as well as other methods that certified teachers use to enhance memory and learning.
"There is a lot of personalized instruction with our students. My job as their teacher is to help them realize their own special gifts. It is amazing when they find that. Each one of them is so unique, and my greatest joy as a teacher is them - my students," Kristiansen said proudly.
Often times students are labeled as disruptive or having behavioral problems as Kristiansen experienced with her brother.
"There is repair that we have to do when a new student comes here," she said. "It's not the (former) teacher's fault or the student's fault. It's just a misunderstanding. We rebuild that student-teacher relationship with them so that they can find their talents and build on their talents. It is thrilling to give them that so they can go out and continue to learn."
Kristiansen said that most of their students do just that. She ran into the mother of a former graduate of Trident Academy. This student, who had trouble with reading, is now entering law school seeking a degree in Criminology.
"When my students become frustrated, I'll remind them that they are in good company. Einstein and Thomas Edison were just two famous people who had learning disabilities," Kristiansen said.
Indeed, Mozart, John F. Kennedy, Nelson Rockefeller, Beethoven , and Leonardo da Vinci all had learning disabilities. All learned to use their gifts and made enormouns contributions to the world.
Kristiansen said Trident Academy's mission is to enable their students to not only learn but to believe in themselves.
"I can see them learning. My biggest challenge is let them go. We build such a relationship that it's difficult for me at times, to let them go on their own. But they do, and I see their self-esteem rise and their attitudes toward learning change. It's very rewarding," she said.
The family-type atmosphere in the environment of Trident Academy is seen in the relationship between Kristiansen and her students. It was evident that she was not just a teacher to these students, but an advocate for what she so strongly believes: the possibilities for her students are endless.
When asked what her proudest moment was as a teacher, Kristansen said, "Every day is my proudest moment."
For more information about Trident Academy visit www.tridentacademy.com.