Books
There is no shortage of books on the topic of Attention Deficit Hyperactive Disorder. There are books on theory, assessment, treatment, management, legal issues, etc. What I have provided here is a selection of books that cover these broad areas and are written by authorities in the field. The library catalogues provides additional titles.

---
Wright, Peter W.D. and Pamela Darr Wright. Wrightslaw: Special Education Law. 1st ed. Hartfield, VA: Harbor House Law Press. 2002.
Wright's book includes text of key laws and regulations. It includes information on what the law says about a child's right to "A Free Appropriate Education (FAPE)" and IEP requirements. This book is to be used as a reference material on legal issues. It teaches the reader "how to use the law as your sword and your shield." It also is to be used as a source to learn how to advocate for a child with a learning disability.
Local call number:
Trident Academy: P.R. 371.9 Wri Charleston County Public Library: 371.9 Wri (Related title - Wrightslaw: From Emotion to Advocacy, Special Education Survival Guide.)
College of Charleston: Not available
Available for purchase:
---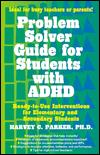 Parker, Harvey C. Problem Solver Guide for Students with ADHD: Ready to Use Interventions for Elementary and Secondary Students. Plantation, FLA: Specialty Press, Inc. 2000.
This guide contains hundreds of classroom accommodations and explains interventions. It contains strategies to help students with ADHD obtain social skills, study skills and homework. There is also a quick guide to medications for ADHD included. This guide is for parents and teachers who need to intervene in their children's problems. It can be used as a quick reference guide. Also, it is helpful in assisting teachers and parents in writing accommodation plans and IEPs.
Local call number:
Trident Academy: P.R. 371.93 Par Charleston County Public Library: Not available
College of Charleston: LC4712.P37 1996 edition.
Available for purchase:

---

Barkley, Russell A. Taking Charge ADHD, The Complete Authoritative Guide for Parents. New York: Guildford Press. 2000.
Dr. Barkley's book is intended for parents who are raising a child with ADHD and for those who want to know more about the disorder and its management. The main goal is "to empower parents to take charge of the care of these often demanding children in a way that ensures the health of the entire family, collectively, and individually." Parents can turn to this manual for: step-by-step plans for: behavior management, data to address controversial issues about diagnosis and stimulant use, strategies that students can use in school, advances in genetic and neurological research, management of stress and keeping the peace, and an up-to-date description of books, organizations and Internet resources.
Local call number:
Trident Academy: P.R. 618.92 Bar Charleston County Public Library: 618.928589 Barkley (1995 ed).
College of Charleston: RJ506.H9B373 (1995 edition).
Available for purchase:
---

Dendy, Chris A. Zeigler. Teenagers with ADD Ė A Parentís Guide. Woodbine House. 1995.
This book addresses the special issues and challenges that face teenagers with ADD. The author provides basic information necessary to understand the condition and to get help and appropriate guidance. Parents can use the guide to assist them with issues at home and at school. Some of the issues addressed are homework battles, grades, failing classes, and uneven academic performance. There is very useful information concerning IEP and 504 plans, which may be critical in insuring educational success for the ADD student.
Local call number:
Trident Academy: P.R. 616.8589 Den Charleston County Public Library: 616.8589 Zeigler
College of Charleston: RJ506.H9Z45
Available for purchase:
---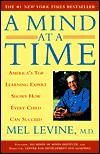 Levine, Mel. A Mind at a Time. New York: Simon and Schuster. 2002.
Dr. Levine laments the one-size fits all education mentality of schools. He advocates in his book Howard Gardnerís theory of multiple intelligences. He isolates eight areas of learning and describes each in its respective chapters and explains how each type of learning works. He advises parents and teachers on how to help children who are struggling in each area. This book can be used to assist a parent or teacher to create individual learning plans for the student based upon their strengths and weaknesses. Parents may relate to one or several client cases that Levine discusses in the book.
Local call number:
Trident Academy: 370.1523 Lev Charleston County Public Library: 370.1523 Levine
College of Charleston: Not available
Available for purchase:
---
Created by Mary M. Silgals, MLIS
April 6, 2004
Edited August 13, 2004
Back to Main Page