Clay Aiken Plumbers' Fan Pin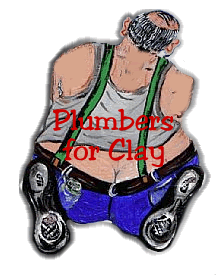 The pin for which you have been waiting!!!!!!
This is a one of a kind limited edition. Only 5 will be offered. Okay so, that makes it 5 of a kind, geez. Ncgurrl has already purchased one. Couchtomato is on the waiting list. First Canadian order gets one free.
Costs per pin: $19.99. This price is all inclusive: includes special handling and packaging, postage, gift wrapping in left over Clay Aiken Christmas wrapping paper, and PayPal's cut.
Special thanks to ressamac for the Unique pin design.