FIRST GRADE SUMMER READING SUGGESTIONS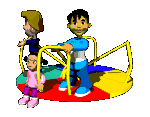 ---
Type of Book
E - Early T - Transitional
---

All By Myself
by Mercer Mayer In this simple, sweet, and very human picture book, Mercer Mayer's popular Little Critter shows us all the things he can do by himself, from tying his shoes (almost) to pouring his own juice (and only spilling a little). The wry illustrations often point up the fact that Little Critter doesn't do everything perfectly, but he makes an effort to do the best he can. E
---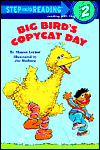 Big Bird's Copycat Day
by Sharon Lerner Big Bird enjoys spending the day doing whatever he sees anyone else doing, whether wagging his tail like a dog or being Grouchy like Oscar. E
---

Cat Goes Fiddle-i-fee
by Paul Galdone An old English cumulative rhyme introduces young children to their favorite farm animals with verses that prompt them to learn the sound that each animal makes. E
---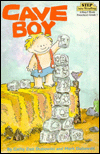 Cave Boy
by Cathy East Dubowski A cave boy gives his grumpy chief something previously unseen for his birthday--and makes him smile. E
---

Come Out and Play Little Mouse
by Robert Kraus Little mouse is busy helping his family five days of the week, but he gets to play with them on weekends. T
---

Cookie's Week
by Cindy Ward Cookie the cat gets into a different kind of mischief every day of the week. E
---

A Dark, Dark Tale
by Ruth Brown Journeying through a dark, dark house, a black cat surprises the only inhabitant of the abandoned residence. E
---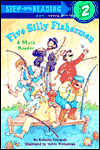 Five Silly Fishermen
by Roberta Edwards A retelling of the traditional tale in which five silly fishermen, unable to count properly, are convinced that one of their group has drowned. E
---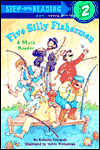 Fix It
by David McPhail Emma wants to watch television early one morning, but the set won't work. How her parents try to fix it--and how Emma finds consolation in a book instead--makes a warm, delightful story. T
---
A Friend for Dragon
by Dav Pilkey Dragon becomes such close friends with an apple that he deeply mourns its loss and is overjoyed when more grow to take its place. T
---

Herman the Helper
by Robert Kraus Herman the helpful octopus is always willing to assist anyone who needs his help--old or young, friend or enemy. E
---
Hiccups for Elephant
by James Preller None of the other animals can sleep because Elephant has the hiccups. T
---

Hooray for Snail
by John Stadler Slow Snail hits the ball so hard during a baseball game that it flies to the moon and back. Will Snail have time to slide in for a home run? E
---
It's Not Easy Being a Bunny
by Marilyn Sadler Unhappy being a bunny, P.J. Funnybunny tries living with bears, birds, beavers, pigs, moose, possums, and skunks. T
---
Johnny Lion's Rubber Boots
by Edith Thatcher Hurd Until his father brings him some rubber boots, a young lion searches for ways to entertain himself on a rainy day. E
---

Just Like Daddy
by Frank Asch A very young bear describes all the activities he does during the day that are just like his daddy's. E
---

Just Grandma and Me
by Mercer Mayer Little Critter and his grandmother spend the day at the beach in this funny-and-true picture book about Mercer Mayer's popular character. Little Critter is a good helper, even at the beach. When his grandmother's hot dog falls in the sand, he washes it off in the ocean. He promises to blow up the inflatable seahorse but needs a little help in the end. The joys and mishaps of a special summer day with Grandma are all brightened by Little Critter's sunny disposition. T
---
My Brother, the Brat
by Kirsten Hall Two brothers discover that it can be fun to share their toys with each other. E
---

Noisy Nora
by Rosemary Wells It's tough being the middle mouse. No one's paying any attention to Nora, so she decides to do something her family can't ignore: make noise. Nora slams windows, bangs doors, and upsets furniture, to no avail. It's not until she crashes out the door—and the house goes strangely silent—that her family realizes: a noisy Nora is much better than no Nora at all. T
---
Sir Small and the Dragonfly
by Jane O'Connor When a dragonfly swoops over the town of Pee Wee and carries Lady Teena away, brave Sir Small rides off on his trusty ant vowing to rescue her. E
---

by Arnold Lobel After the farmer's wife cleans up all of his good, soft mud, Small Pig decides to run away. He's sure to find a better pigpen in the city. But, once there, the puddle he thought was mud is not mud at all! And now this small pig has one BIG problem. T
---
Soccer Game!
by Grace Maccarone Brief rhyming text follows a group of children through some exciting plays during a soccer game. E
---

Spot's BirthdayParty
by Eric Hill Spot and his animal friends play hide-and-seek at his birthday party. Flaps conceal the hidden guests. T
---

There's a Nightmare in My Closet
by Mercer Mayer A little boy anxiously awaits a nightmare he knows lives in his closet. when it finally appears, the little boy shoots it with his popgun. Looking more sheepish than terrifying, the nightmare starts to blubber, and the little boy realizes the nightmare isn't scary at all. He takes the nightmare by the hand and tucks it into bed. T
---
The Three Billy Goats Gruff
by Marcia Brown The three billy goats outsmart the hungry troll who lives under the bridge. T
---

Very Busy Spider
by Eric Carle The farm animals try to divert a busy little spider from spinning her web, but she persists and produces a thing of both beauty and usefulness. The pictures may be felt as well as seen. T
---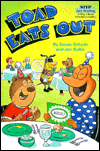 Toad Eats Out
by Susan Schade Toad's friends have a surprise birthday party for him at his favorite restaurant. E
---
We Just Moved!
by Stephen Kresnsky When a boy moves with his family to a bigger castle, he finds that some things about life in the new place are different, some things are the same, and he gets more comfortable the longer he is there. T
---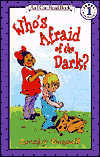 Who's Afraid of the Dark?
by Crosby Bonsall A small boy projects his fear of the dark onto his dog. T
---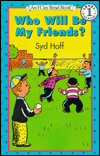 Who Will Be My Friends?
by Syd Hoff He likes his new room and his new street. The policeman and the mailman are very nice. But what Freddy really needs are friends — and he looks everywhere until he finds them! E
---
Back To Top
Back to Main Page - Summer Reading Suggestions
Created By Mary M. Silgals
May 1, 2004
Annotations by Editors/Publishers
---