FOURTH GRADE SUMMER READING SUGGESTIONS

---
Type of Book
TL - Traditional Literature
RF - Realistic Fiction HF - Historical Fiction
SF - Science Fiction F - Fantasy
B - Biography S - Series or Sequel
---
The Aesop for Children
Milo Winter, illustrator According to Herodotus, Aesop was a slave who lived in Samos in the 6th century B.C. His moral animal fables have delighted young and old for centuries. This fabulous full-color edition of the classic Aesop features the original illustrations of Milo Winter. This unique collection features 126 of the best-loved fables, including such favorites as "The Town Mouse and the Country Mouse," "The Ants and the Grasshopper," "The Goose and the Golden Egg," "The Wolf in Sheep's Clothing," and "The Hare and the Tortoise" and all their wonderful and amusing animal characters. TL
---

Babysitters Club: Mary Anne Saves the Day
by Ann M. Martin When a fight breaks out among the members of the Baby-sitters Club, timid Mary Anne finds herself becoming more assertive as a baby sitter and in her relationships with her father and friends. RF, S
---

The Best School Year Ever
by Barbara Robinson The six horrible Herdmans, the worst kids in the history of the world, cause mayhem throughout the school year. RF, S
---

The Boxcar Children
by Gertrude Chandler Warner Henry, Jessie, Violet and Benny are orphans. Determined to make it on their own, they set out to find a safe place to live. They discover an old, red boxcar that provides shelter from a storm. Against all odds, they make it into their home--and become the Boxcar Children! RF, S
---

Bunnicula
by James Howe Though scoffed at by Harold the dog, Chester the cat tries to warn his human family that their foundling baby bunny must be a vampire. F, S
---

Caddie Woodlawn
by Carol Ryrie Brink Chronicles the adventures of eleven-year-old Caddie growing up with her six brothers and sisters on the Wisconsin frontier in the mid-nineteenth century. HF
---

A Dog Called Kitty
by Bill Wallace The puppy was small and fuzzy, with a friendly, wagging tail -- and Ricky was afraid of him! No wonder, since he was attacked by a dog when he was just a baby. So when a stray puppy comes sniffling around the farm, Ricky tells it to get lost. But the puppy keeps trying to play with Ricky. And every time Ricky's Mom feeds the cats, the little dog comes running. The cats aren't sharing their food, however, and the poor pup is slowly starving. If Ricky doesn't overcome his fear, the little puppy may die -- but if he lets himself get close enough to feed it, he may find the best friend he's ever had! RF
---
Dogs Don't Tell Jokes
by Louis Sachar Twelve-year-old jokester Gary Boone knows he was born to be a comedian, it's the kids in his class who think he's just a goon. Winning the school talent show would be Gary's dream come true, but on the big night his dream nearly backfires—with hilarious results. RF
---

Encyclopedia Brown Boy Detective
by Donald J. Sobol A Civil War sword...A watermelon stabbing...Missing roller skates...Atrapeze artist's inheritance...And an eyewitness who's legally blind! Theses are just some of the ten brain-twisting mysteries that Encyclopedia Brown must solve by using his famous computerlike brain. Try to crack the cases along with him—the answer to all the mysteries are found in the back! RF, S
---

Help I'm Trapped in the First Day of Summer Camp
by Todd Strasser Jake Sherman's first day at summer camp is pretty bad. But it gets even worsewhen he has to live through it again and again! F, S
---

Henry Ford: Young Man with Ideas
by Childhood of Famous Americans The early life of the American automotive industrialist who founded the Ford Motor Company and pioneered in assembly-line methods of mass production. B, S
---
Howliday Inn
by James Howe While their family is away, Harold and Chester, a dog and a cat, are boarded at Chateau Bow-Wow where Chester becomes increasingly alarmed by the strange behavior of his fellow guests and the sudden disappearance of one of them. F, S
---

How to Eat Fried Worms
by Thomas Rockwell Two boys set out to prove that worms can make a delicious meal. RF
---

The Hundred Penny Box
by Sharon Bell Mathis Michael's love for his great-great-aunt who lives with them leads him to intercede with his mother, who wants to toss out all her old things. RF
---

Mr. Popper's Penguins
by Richard and Florence Atwater The unexpected delivery of a large crate containing an Antarctic penguin changes the life and fortunes of Mr. Popper, a house painter obsessed by dreams of the Polar regions. F
---
Mrs. Piggle-Wiggle
by Betty MacDonald Mrs. Piggle-Wiggle lives in an upside-down house and smells like cookies. She was even married to a pirate once. Most of all, she knows everything about children. She can cure them of any ailment. Patsy hates baths. Hubert never puts anything away. Allen eats v-e-r-y slowly. Mrs. Piggle-Wiggle has a treatment for all of them. F, S
---

Pony Pals: A Pony In Trouble
by Jeanne Betancourt Pam's father is a veterinarian, so she is used to being around sick animals. But when her own pony gets sick, Pam needs her Pony Pals more than ever.Her Pony Pals, Anna and Lulu, try to figure out what is making the pony sick. Can the Pony Pals solve the mystery? Will Lightning the pretty pony, be a pony in trouble for long? RF, S
---

Ramona the Pest
by Beverly Cleary Ramona meets lots of interesting people in kindergarten class, like Davy whom she keeps trying to kiss and Susan whose springy curls seem to ask to be pulled. RF, S
---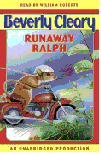 Runaway Ralph
by Beverly Cleary Even mice get away from their pestering siblings. Ralph is no different. And he sure has had it with his mother telling him what to do all the time. But is he prepared for the vast and scary world he'll find once he takes to the road on his motorcycle? F, S
---

Shiloh
by Phyllis Reynolds Naylor When he finds a lost beagle in the hills behind his West Virginia home, Marty tries to hide it from his family and the dog's real owner, a mean-spirited man known to shoot deer out of season and to mistreat his dogs. RF, S
---
Tales of a Fourth Grade Nothing
by Judy Blume Peter finds his demanding two-year-old brother an ever increasing problem. Fudge, Peter, Sheila and the rest of the gang are here. F, S
---

They Led the Way
by Johanna Johnston A collection of biographies about women who have made a difference in American history. From Anne Hutchinson to Carrie Chapman Catt, these women all worked for women's rights. B
---

The TV Kid
by Betsy Byars Lennie is addicted to television. Even reruns are more exciting than real life, and Lennie likes to pretend he's the one experiencing the drama. But Lennie's daydreams lead him into a real situation that could cost him his life—and suddenly he's in trouble more terrifying and dangerous than anything he's ever seen on TV. "Byars infuses the story with her special magic. Lennie is a likable, funny, moving, and always entertaining character." — Publishers Weekly RF
---

Time Warp Trio: Knights of the Kitchen Table
by Jon Scieszka When Joe, Fred, and Sam are sent back in time by a magic book, they find themselves face-to-face with giants, dragons, wizards, and the Knights of the Round Table. F, S
---

Walking the Road to Freedom: A Story About Sojourner Truth
by Jeri Ferris Traces the life of the Black woman orator who spoke out against slavery throughout New England and the Midwest. B
---

What's the Big Idea, Ben Franklin?
by Jean Fritz A brief biography of the eighteenth-century printer, inventor, and statesman who played an influential role in the early history of the United States. B
---

The Whipping Boy
by Sid Fleischman A bratty prince and his whipping boy have many adventures when they inadvertently trade places after becoming involved with dangerous outlaws. F
---
Back To Top
Back to Main Page - Summer Reading Suggestions
Created By Mary M. Silgals, MLIS, M.Ed.
April 25, 2004
Last edited May 17, 2012
Annotations by Editors/Publishers
---